Medical Library
Loading...Please Wait
Skier's Thumb (Gamekeeper's thumb)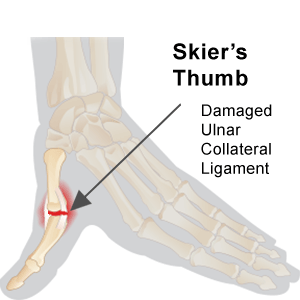 Skier's Thumb is caused by a traumatic force on the thumb that forces it out (thumb abduction and/or extension are the anatomical directions) damaging the ulnar collateral ligament at the metacarpophalangeal (MCP) joint . It often occurs with skiing and football.
Signs and symptoms include pain in the knuckle of the thumb, swelling, and an unstable joint. X-rays often show a small fragment of the metacarpal that has been pulled off by the ligament (called an avulsion fracture).
Treatment usually consists of bracing or splinting of partial tears and in some cases, surgical repair if the tear is complete.
Possible Treatment Goals
Decrease Risk of Reoccurrence
Improve Function
Optimize Joint Alignment
Improve Muscle Strength and Power
Improve Proprioception
Self-care of Symptoms
Improve Safety
Improve Tolerance for Prolonged Activities
Additional Resources
Disclaimer
The information in this medical library is intended for informational and educational purposes only and in no way should be taken to be the provision or practice of physical therapy, medical, or professional healthcare advice or services. The information should not be considered complete or exhaustive and should not be used for diagnostic or treatment purposes without first consulting with your physical therapist, occupational therapist, physician or other healthcare provider. The owners of this website accept no responsibility for the misuse of information contained within this website.